Fresh Pizza In 5 Minutes?
---
You read that right! From the time you hang up the phone, click "order now" on the website or place your order at our curbside window, we can make your handmade pizza, toss it in our special, wood-fired oven, slice and box it in under 5-minutes! In addition, because our oven can hold up to eight (8) pizzas at one time, even large orders are made extremely FAST!
---
What Customers Are Saying About Our Insanely Delicious Pizza
Johanna Pagan
August 22, 2022.
Small restaurant, but very good food and friendly service.
Aaron Redmond
August 13, 2022.
Hooooolllly cow this place is the real deal!!!!!! Fresh, awesome ingredients, great crust, winner winner!!!!!!!!!!
Guðmundur Karlsson
August 12, 2022.
Great Margherita pizza
Robert F Porter
July 22, 2022.
WOW! This place is a MUST try. Fantastic, Authentic, Italian food. Meatball was a 10 out of 10. Pizza was top shelf. Highly recommend. The owners are very friendly and the service was great! Don't miss this gem!
Vic Gallese
July 22, 2022.
Welcome back John! Cerino pizza (especially crust) is just like you would find in Italy. Salad greens are plentiful, local, fresh and tasty Oh.....did I mention the lemon cheesecake.....wow John and his team know what they are doing and they do it well Putting Biga on our regular rotation
Stephanie Combes
July 15, 2022.
Wood fire oven smells so good and the pies are outstanding! Definitely check them out!!
Great wood fired pizza, Dan great waiter, owe it to yourself to go once , and you'll go again
Tried three different kinds of pizzas and they were all delicious. Their dough is great and toppings weren't skimpy. Save room for dessert if you can, they've got some wonderful options - we went for the cannolis. Definitely going to return here and keep going through the menu.
The secret is in the dough
Only the freshest ingredients
Only the choicest cheeses
Cerino Pizza
Local sausage, roasted artichokes, tomato sauce, provolone and flor di latte fresh mozzarella. An incredible sausage & artichoke pizza.
Fresh Sausage Pizza
Italian sausage, tomato sauce, provolone and flor di latte fresh mozzarella. The best sausage pizza you'll ever eat.
Meatball Pizza
Tasty meatballs, tomato sauce, fior di latte fresh mozzarella and basil. Chef's kiss good!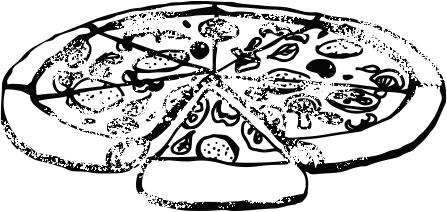 WHITE PIES MENU
Extra virgin olive oil, garlic, herbs
12-Inch Pies, 6 Cuts
Rustica Pizza
Roasted artichokes. Kalamata olives, sweet red onion, Grande Parmesan and fior di latte fresh mozzarella. This is a Mediterranean pizza done Biga style.
3 Cheese and Garlic Pizza
Grande fresh mozzarella, provolone and Parmesan with garlic.
Wild Mushroom Pizza
Local seasonal wild mushrooms, garlic, oregano, Grande provolone and fior di latte fresh mozzarella. If you love mushrooms, then this pizza will take you to a happy place.
Chicken and Bacon Pizza
Grilled chicken breast, applewood smoked bacon, smoked blue cheese, Grande fresh mozzarella, and fresh basil.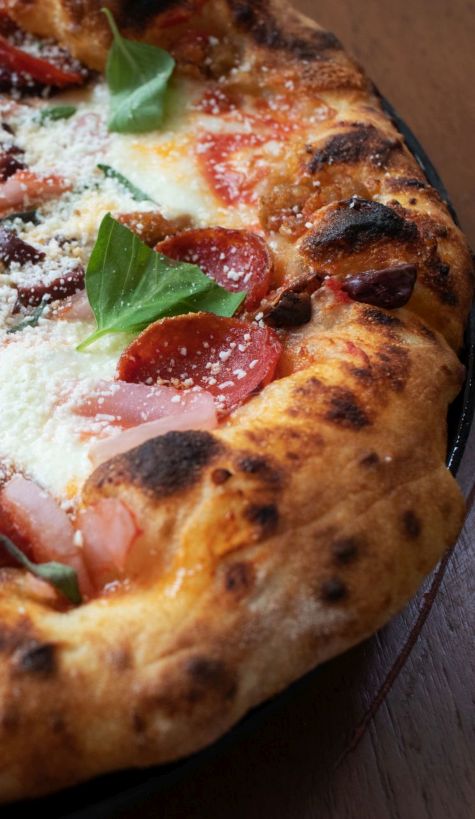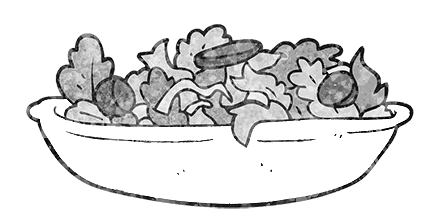 Roasted Broccolini
Fresh local broccolini prepared with lemon, garlic, parmesan cheese, and black pepper. Yum!
Fresh Mozzarella Plate
Flor di latte fresh mozzarella, house made crostini, extra virgin olive oil, and fresh basil.
Big Biga Meatball
House made meatball with our insanely delicious marina, parmesan cheese, and fresh bread.
Cheesy Breadsticks
Flor di latte fresh mozzarella, provolone, extra virgin olive oil, garlic, and herbs.
Big Leafy Salad
GLG Lettuces, shaved parmesan, pickled red onion, and croutons
Caesar Salad
GLG Romaine lettuce, shaved parmesan, croutons, house made Caesar dressing
Cranberry Pecan Salad
Spanish glazed pecans, crumbled Gorgonzola, natural cranberries, pickled red onions over locally grown greens. Served with our Biga house Italian dressing.
Dine In Available During All Business Hours
Located:
9145 Chillicothe Rd,
Kirtland, OH 44094